First Time Spartan
by Katie Scharf
I love playing outside and getting dirty.  After all I am the mom of all boys! Therefore mud runs are a great activity for me! The Spartan Race fits perfectly with my love of the outdoors and competition. My husband and I decided we would attack this course head on and compete like a Spartan. We have been married for over 10 years and love some friendly competition, but this day proved to be very different than we expected. This race is not about how you are doing compared to others….this race is about how YOU are doing physically and mentally.
We started the race laughing and talking to others about the day, the mud & the course. We ran together the entire way, we both knew he could run faster than me, but he knew that this race was not all about speed…THE OBSTACLES! Some were pretty easy, some took concentration, some took strength and a few were just TOUGH! I have run several different mudruns, and The Spartan Race is different. They add consequences to not completing an obstacle on the first try = 30 burpees.  (Don't know what a burpee is, click here!)  At the finish line, everyone evaluates the number of burpees you had to complete. (Our results: Me = 60 burpees (2 obstacles x 30) , Mitch = 30 burpees. I was unable to climb the rope and neither of us hit the target with the javelin.)
Mud runs have become the new trend in racing. In fact in 2012, there were more than 2 million participants worldwide! The Spartan Race™ has been the global leader in Obstacle Racing since 2005. It was designed by 'eight ins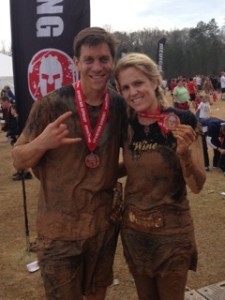 ane ultra athletes' & is now in the US, Canada, England, India, Slovakia & Mexico.
The website asks: 'Why Spartan?' The creators say simply that their goal is "to get you off your couch, throw you in the mud & trails, and feed you one tough endurance event day that will be the adrenalin rush of your life." Now that I have completed my first (and definitely not my last) I get it -
'You will know at the finish line!'
Tags: spartan chicked